This week we discuss therapy and emotional expression with the mental health practitioner and author of Man, Just Express Yourself, James Harris. He shares advice for those who are resistant to therapy, as well as tips for opening up and getting your loved ones to do the same.
You can order your copy of "Man, Just Express Yourself" and the Cheesy Date Board Game. You can find James' book and board game on his website. And follow his Instagram and YouTube channels to stay up to date with James.
Holidays are coming up, and TSC's Intimately You has holiday prices going on. And you can get an additional 25% off with my code* DRJESS25 – Toys from Lelo, We-Vibe, Romp, and so much more.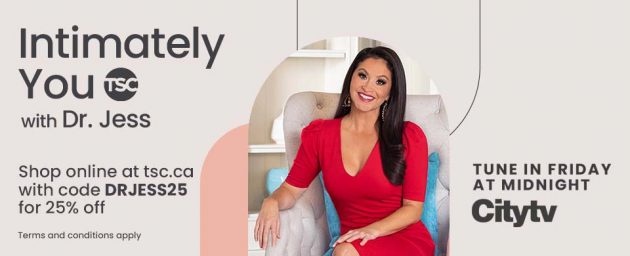 If you've got questions or topic suggestions for the podcast, submit them here. As well, you can now record your messages for us! Please record your message/question in a quiet room and use your phone's headphones with a built-in mic if possible.
And be sure to subscribe on Apple Podcasts, Spotify, Podbean, Google Podcasts, Amazon Music & Stitcher!
*Promo Code DRJESS25 is valid from September 29, 2021 at 10:00pm ET – December 18, 2021 at 11:59pm ET. Promo code may be redeemed on regular purchase price, This Visit Only Price, Event Price and Blockbuster Price before S&H charges and taxes on products as identified on Intimately You with Dr Jess (tsc.ca/intimatelyyou). Promo code cannot be redeemed on our TODAY'S SHOWSTOPPER™ offer, Encore TODAY'S SHOWSTOPPER™ offer or Exclusive For You TODAY'S SHOWSTOPPER™ Presale offer, or redeemed for cash, or used towards payment of the TSC Credit Card. Offer cannot be combined with any other offer or discount (including Rogers employee discounts). All "Last Chance Price Final Sale" and "Clearance Price Final Sale" purchases are final, no returns or exchanges. Offer subject to change without notice. To redeem your Promo Code when making a purchase online at tsc.ca, enter it into the PROMOTIONAL CODE area upon checkout. If shopping by phone call 1-888-2020-888 and quote the Promo Code to the Customer Care Representative. ©2021 Rogers Media.